You've signed up, or are considering signing up, for a Graffiti Run. What IS this event, and what have you gotten yourself into doing? I'm here to offer you an unofficial (but extremely helpful) guide to doing a Graffiti Run.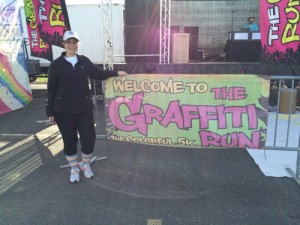 I have done a number of 5Ks over the years, but I had never done a color run of any type. Many of my friends had done them, and the pictures on Facebook looked like great fun. After I signed up, and even when my friend and I got to the event, I wasn't sure exactly what it would be like.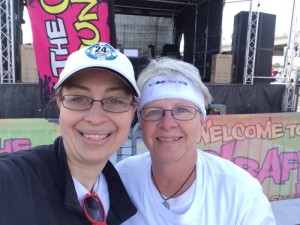 A Graffiti Run is an event very similar to a Color Run. It's a 5K (3.1 mile) walk/run where volunteers shoot participants with colored chalk-like powder during the event. Get ready to get messy and have a great time!
Your Guide to a Graffiti Run
A Graffiti Run is not a race. Although a Graffiti Run is a 5K, it's not a timed event and parts of the course require going slowly, like waiting in line to get splatted with paint. My friend Jan and I walked about half and ran about half, weaving around other participants, but this wasn't a fast event. However, this makes it a GREAT event for beginners and families since it's totally non-intimidating. Even if you can't walk a whole 3 miles, you could cut it short and no one would care.
The race guidelines recommend wearing white, and I agree. They give you a white shirt. Wear other white gear if you have it. Don't buy anything new though. You will get really messy and it might not wash out. Plan to snap a before and an after photo!
The race is like a regular 5K except for getting chalk-like paint powder thrown at you. Yes, it's quite possible someone on drugs created this event. It's really like any other 5K except you walk through stations where volunteers quirt you with paint dust, all in the name of a good time. It's crazy good fun. Right before the event started, I remember a moment when I got a little teary thinking, "I'm so thankful I'm healthy enough to do stupid stuff like this." Because, you know, a few years ago I wasn't. I never take it for granted.

Bring water and a post-race snack. I wished I had a water bottle with me. There was one aid station and we had to wait in line for about 5 minutes for one foam cup of water. Also, there was no food at the finish line which I found to be a disappointment. We were used to triathlons and other running events with a great post-race spread. We had a long light-rail ride home and were starving. Next time I'm bringing a granola bar, or better yet, a peanut butter and jelly sandwich.

You can buy extra stuff if you want. The race sells all kinds of extra goodies — bags, socks, extra paint. Feel free to indulge if you love to shop, but you will have a great experience without it. I bought some socks for $5 and those are fun. Each participant gets a bag of paint included in their packet pick-up. My friend Jan and I didn't know what to do with it until we saw people pre-race opening it up and throwing it at each other. Yup, that's really what you do with it. During the event you will get a TON poured on you so there is no need for extra unless you want to purchase some.
Bring or purchase a bandanna. Although the race guide says the paint powder is cornstarch based and non-toxic, you are going to inhale a lot of it, based on the crayon-green boogers I was blowing for about 12 hours post-event. Next time I'm bringing a bandanna. I would recommend anyone with bad asthma sitting this event out entirely, and while I would say this is a great event for families, and there were a number of strollers, I personally wouldn't bring a small baby.
Have a blast! A Graffiti Run is a great way to have fun and be fit. Go for it!
Have you ever done a Graffiti Run?