Are you considering getting started with Bible Journaling but you aren't sure which Bible verses to begin with? Check out these 7 Bible Verses to get started with Bible Journaling.
Writing or doing artwork in your Bible can be intimidating at first. Last year I was given a journaling Bible
as part of a blogger give-away, and I admit it sat blank for almost a year.

Please don't allow Bible Journaling to intimidate you, because it's a wonderful hobby that allows you to delve into God's Word in a meaningful way. Whether you are crafty and creative, artistic, or not creative in the slightest, Bible Journaling has something to offer you.
Check out my Trust in the Lord Bible Journaling Kit which walks you step-by-step through a month or more of meaningful Bible Journaling. You will love it!
Be sure to subscribe to my Bible Journaling series with tons of helpful printables and Bible Journaling tips.

The following Bible verses are ones I used to get started with Bible Journaling because they are meaningful and also have a visual aspect involved.
One of my best tips for Bible Journaling – just do it! Don't spend too much time researching online. This one of those hobbies that it's easy to get swept up in reading tips, looking at ideas, watching videos, and before you know it hours have passed and you haven't cracked open your Bible yet. (I do this, so I get it!)
Pick one of these verses and get started today.
New! Get Your Bible Journaling Bonus Kit Now
This 3 page kit includes a checklist for the 7 Bible verses plus a fun page of doodles and fonts to trace, color, or cut out and use in your Journaling Bible or notebook. You could also print this page on full-sheet label paper to create your own stickers.
Bible Journaling Bonus Kit
$15.00
$3.00

7 Verses to Get Started with Bible Journaling
Verses taken from the English Standard Version.
In all your ways acknowledge him,
and he will make straight your paths.

Proverbs 3:6

And the peace of God, which surpasses all understanding, will guard your hearts and your minds in Christ Jesus.

Philippians 4:7
A Psalm of David.

The Lord is my Shepherd

The Lord is my shepherd; I shall not want.
He makes me lie down in green pastures.
He leads me beside still waters.
He restores my soul.
He leads me in paths of righteousness
for his name's sake.

Even though I walk through the valley of the shadow of death,
I will fear no evil,
for you are with me;
your rod and your staff,
they comfort me.
You prepare a table before me
in the presence of my enemies;
you anoint my head with oil;
my cup overflows.
Surely goodness and mercy shall follow me
all the days of my life,
and I shall dwell in the house of the Lord
forever.

Psalm 23
For God so loved the world, that he gave his only Son, that whoever believes in him should not perish but have eternal life. For God did not send his Son into the world to condemn the world, but in order that the world might be saved through him.

John 3:16-17
Not only that, but we rejoice in our sufferings, knowing that suffering produces endurance, and endurance produces character, and character produces hope,

Romans 5:3-4

Your word is a lamp to my feet
and a light to my path.

Psalm 119:105

And he said to them, "Do not be alarmed. You seek Jesus of Nazareth, who was crucified. He has risen; he is not here. See the place where they laid him.

Mark 16:6
Which Bible Verses did you use to get started with Bible Journaling? Share in the comments below.
Bible Journaling with Momentum
Momentum is a monthly Bible journaling kit subscription program.
This program is specifically designed for the busy Christian woman who wants to grow in faith yet doesn't have hours to spend searching through Pinterest for ideas and techniques.
With this program, all the work is done for you, so each time you open your Bible everything you need will be right at your fingertips.
Click here to learn all about Momentum and your get FREE 10 day Bible journaling course to get started.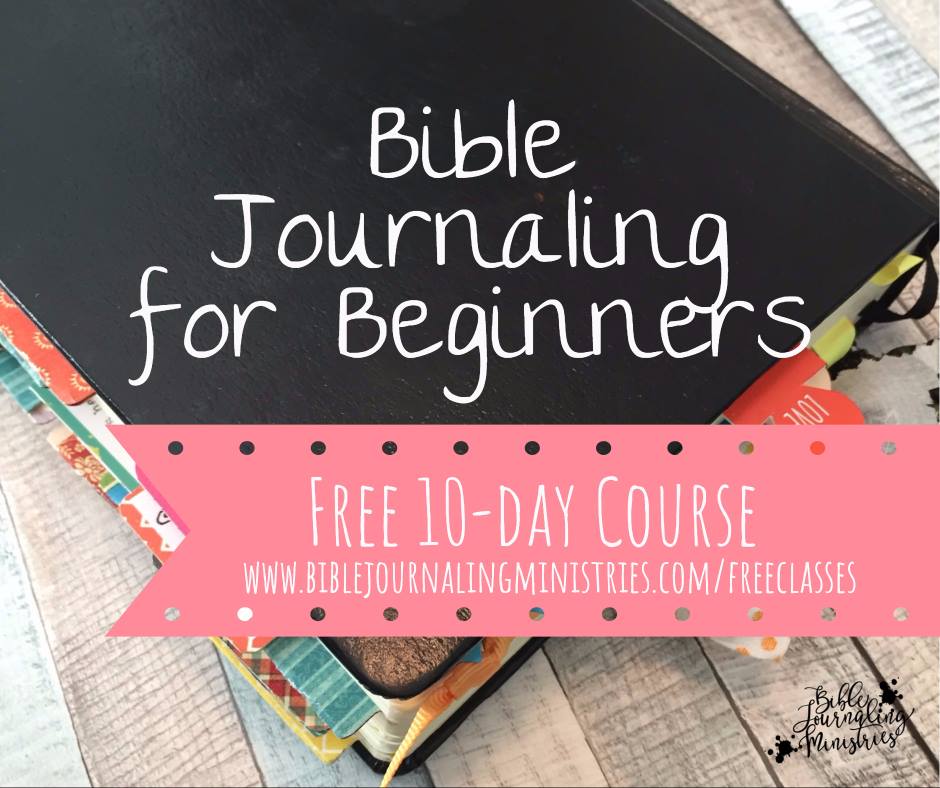 More Posts You Will Love
Bible Journaling with Watercolors
Bible Journaling with Acrylics
Grow Your Faith with Easy Bible Journaling
Bible Journaling: More Creative Ideas
Bible Journaling: How to Get Started
Bible Journaling Supply List
*Receive a free printable Bible Journaling Supply List for Beginners.
*The best products to buy
*Money saving purchases