How To Bible Journal: A Beginner's Guide To Bible Journaling
Check out this guide on how to start Bible journaling for beginners. Get Bible Journaling ideas, tips, and printables to teach you how to get started Bible journaling.
Have you been wondering how to Bible journal? Our Bible journaling Ideas are just what you need to get started with what has become very popular as an expression of faith, a way to be creative, and a way to dig deeply into God's word or simply to reflectively meditate.
Yet these days there are so many supplies and tools, so the whole concept can be a bit overwhelming, especially to those of us who were taught NOT to write in our Bibles.
If you are wondering what this is all about, keep reading because we're going learn together how to start Bible journaling for beginners.
How To Bible Journal: Get Started
As you begin your Bible journaling process, you'll be looking back to these great Bible journaling ideas to help get started and to keep up with this new way to really dig into God's word. As you grow in your relationship with Christ, your ideas for how to journal the process will also increase.
Don't Miss These Posts With Bible Journaling Ideas & Tips:
Day 1: Bible Journaling Ideas: How to Get Started
Day 2: Make It Meaningful – Bible Journaling is writing, coloring, taking notes, and in other ways creatively expressing yourself in your Bible or in a notebook alongside your Bible. In the first post of this series, we discussed how to get started with Bible journaling. Today we delve more deeply into how to make it meaningful for you.
Day 3: Top 25 Bible Journaling Supplies – Bible journaling is the time spent reading God's word and marking, taking notes, and decorating directly in a Journaling Bible
or notebook. Are you wondering which supplies are best to use? Here are the top 25 Bible journaling supplies.
Day 4: Get Creative –Bible journaling is a practice of writing in your Bible or notebook to focus on God's word, studying the scriptures, and providing a lasting legacy of faith. Once you have an understanding of the basics of how to Bible journal, you might be ready to try your hand at some more creative ideas. That's what this post is all about.
Bible Journaling For Beginners: Two Things You Need To Know
Here are two important things I remind people who want to start with Bible journaling.
You Don't Need A Lot Of Money To Bible Journal.
All you need is God's word and a pencil. Yup, that's it! You'll see fancy stuff as we go and the "gimmies" can hit hard, but remember much of it is extras that are not required.
You Don't Have To Be Creative.
Stay focused on what matters, which is your time with God.
While some people are quite talented and creative, this is not a contest! Focus on your personal time with the Lord.
How To Bible Journal: What Is Bible Journaling?
Bible journaling is a creative way to engage with Scripture. It can transform the way you spend time in the Word of God and it all begins within the margins of the Bible.
With Bible journaling, you will find a creative and fresh approach to the age-old discipline of Bible reading. With pens and markers in hand, you can visually capture Scripture, meditate on God's Word and memorize the text. Some choose to journal as an expression of private devotion, others journal as an act of worship and there are even some who consider it a creative outlet that can be shared.
No matter what your purpose for Bible journaling, the beauty of the movement is this: it doesn't require a skilled artist. All that matters is that you're willing to experience God and His Word in a creative way.
Why Bible Journaling?
Why should you start Bible journaling?
Bible journaling is an act of worship. Not just coloring or another art form, while working on these designs, meditate over the scriptures. Pray. Use your time Bible journaling as worship.
Document your walk with God. Like an old-fashioned Bible with a family history in the front, you are sharing your legacy of faith through your drawings, markings, and stories.
Your Bible will become a treasured keepsake as your children and grandchildren see what you pondered and how you expressed your faith in your important times with God. Bible journaling ideas abound, and how you use them to help document your walk will be a treasure for future generations.
Use your gifts to GLORIFY Him. Use the gifts of your time, talent, and treasures to bring glory to God who is your Creator and gives all good gifts.
Connect God's Word to your life. The more you reflect on God's word, the more you will see daily, meaningful connections to real-life situations. Then the more you can journal about those…it becomes a win-win situation.
Pray the Scriptures. Pray as you journal. Pray God's word back to him, and you will discover you memorize large portions of scripture that you can pull out and use at other important times when you need it most.
Consider using the S.O.A.P. method. This is an old method but a goodie. S – Scripture. Read a passage of the Bible. O – Observe. What about this passage was especially meaningful to you? A- Application. How does this apply to your life today? P – Pray. Pray for guidance and direction as you apply this truth to your life.
Which Journaling Bible Should I Use?
When asking yourself how to Bible journal, here are some great options for journaling Bibles.
A journaling Bible gives you space inside the Bible to add your own notes, drawings, artwork, and other designs.
Here is the ESV journaling Bible
. You can see the extra space in the margins.
A basic journaling Bible such as the ESV journaling Bible
or NIV Journaling Bible
is blank with wide margins.
What Does A Bible Journal Look Like?
The main difference in Bibles is the covers and width of margins.

While you certainly don't need a journaling Bible (see below for more ideas if you don't have one), many people find it gives them room for creativity and space to take notes.
Also see this post: 25 Bibles for women.
These journaling Bibles are different in that they have pages with pre-done pictures that you can color.
There is also some room for your own drawings and notes, but not as much as a plain Journaling Bible.
These are great beginner journaling Bibles for getting started, for teens, and if you aren't super-creative.
Click on any photo to see samples of some pages:
Do I Need a Journaling Bible?
No! Here are creative Bible journaling ideas when you don't have a journaling Bible:
Update (2020) The Illustrating Bible by Illustrated Faith
Illustrated Faith has recently released their new Illustrating Bible and this spiral bound, square Bible with thicker pages and wider margins is truly unlike any other journaling Bible on the market. Read our full review of the Illustrating Bible here.
What Do I Put in the Margins?
Here are a few Bible journaling ideas to get you started:
Pictures or illustrations, doodles, circled words, lines, and arrows, highlighted sections or phrases, stars or exclamation points
Song lyrics
Devotional thoughts
Prayers
Sermon notes
A simple line down the page to make a connection
A word about THE LINE ~ It marks the spot and brings you back. It's the familiar when you get lost and the life-line when you fall in again. It's not "where [or] what was that verse?" but rather knowing you can find it and lean on it again until finally, it becomes a part of you!
What are the Best Beginner Supplies for Bible Journaling?
We have a beautiful new Bible Journaling Kit made especially for beginners and people who aren't especially creative. Click here to check out the Trust in the Lord Bible Journaling Kit.
What are the best pens for Bible Journaling?

Foundations Bible Journaling Kit $44.95
Grab the Illustrated Faith Starter Kit for only $35!

Bella Blvd 1256 Illustrated Faith Basics Stickers, 6″ x 12″, Bible Tabs #2, Multicolor $5.75

Sakura 30068 8-Piece Pigma Micron Assorted Colors 01 Ink Pen Set $13.79
Prima Marketing Art Basics Gesso, 8.5-Ounce, Clear $9.78

Faber-Castell FBR770169 FaberCastell Gelatos Set – Brights $21.37

Accu-Gel Bible Highlighters (Pack of 6) Plus Pigma Micron Bible Underlining Pens (6 Pack) Deluxe Study Kit $24.95
Paper Smooches Clear Stamps, 4 x 6″, Have Faith
14.99

Prismacolor Premier Colored Pencils, Soft Core, 48-Count $23.99
Prismacolor Scholar Pencil Sharpener
$1.49
Tip! Don't sharpen your pencils to a tip that's too sharp or it could tear your Bible pages.
Speedball Elegant Writer 4 Calligraphy Marker Instructional Set
$6.13

Gel Pels probably do better in a separate journal rather than your journaling Bible — be sure to test them first:
Pilot G2 Retractable Premium Gel Ink Roller Ball Pens, Fine Point, Assorted Colors, 8-Pack
(31128) $7.27
Pilot G2 Metallics Gel Roller Pens, Fine Point, Assorted Color Inks, 8-Pack Pouch (34405) $11.50
Pilot G2 Retractable Premium Gel Ink Roller Ball Pens, Fine Point, Black Ink, Dozen Box (31020) $10.42
Delta Creative Stencil Mania Stencils, 7 by 10-Inch, 970660710 Script Alphabet
$5.80
DaySpring Illustrated Faith Starter Kit, For Christian Bible Study (0790670)
$29.99
How to Bible Journal: The Bible Journaling Kits
Bible journaling kits are great because you get a group of supplies that are of one theme. Plus it's a little bit like Christmas morning when you get them. When you are getting started, a kit can be a great way to not feel quite so overwhelmed.
Our favorite kits include those from Illustrated Faith and Creative Retreat. Here are some examples for you to explore. Try investing in one and see how you like it:
Illustrated Faith Less Hustle More Jesus Devotional Kit – I am tired. There is something about the span between Easter and Summer that just wears me out. There is so much to still be done, but my brain is already outside relaxing by the pool. Anyone else have this problem? I was so thankful that the new Illustrated Faith "Less Hustle More Jesus" Devotional Kit showed up in my mailbox. This kit is all about finding peace in Jesus and it is just what I need right now.
Illustrated Faith Only One You Devotional Kit –I am so ready for Spring. I am sure you are too. Whatever covers your ground outside, your Bible inside can be bright and springing with fresh ideas. The Illustrated Faith "Only One You" Devotional Kit is ready to bust through the winter doldrums and bring hope and life to your Bible journaling pages.
Illustrated Faith All Things New Devotional Kit –When I first discovered Bible journaling I just knew it was going to be my thing. I always loved art and my Bible was already rainbowed with colored pencil highlighting. Beyond that, I had no clue where to begin. Illustrated Faith's devotional kit "All Things New" is an excellent place to start your Bible journaling journey or to delve deeper into where God wants you to go.
Creative Retreat Devotional Kit –As a busy mom I am always looking for ways to make life easier. Bible journaling kits are a major time-saver because their pre-prepped supplies save me from a lot of decision making. This month I got a sneak peek at the Creative Retreat My Favorite Things Devotional kit and boy do I have a major crush!
How Do You Journal The Bible?
The NIV Bible says this, "Bible journaling is simply about reading your Bible devotionally and taking time to respond to the insights you receive. For many, this means spending time exercising their creativity by responding to God's Word artistically. If you scroll through Pinterest, you'll find a lot of gorgeous examples of artistic Bible journaling.
But you don't have to be a professional artist to take up Bible journaling. You just have to want a new way to engage with God's Word at a pace that allows you to pause, reflect, and respond to the wisdom you're receiving.
This can be done with a graphic representation of the Scripture you're reading, but it can also be done by highlighting key words, writing down next steps, or making note of areas that need prayer. Ultimately, you want to record what God communicates to you in your reading so that you can more faithfully meditate upon and apply his Word."
Is Bible Journaling a Sin?
Sometimes, when people ask how to Bible journal, the question of is bible journaling disrespectful pops up. Let's talk about it.
Have you wondered if Bible Journaling is disrespectful?
As Bible journaling has become more popular, some controversy has risen up about the practice. There are people who believe that writing in a Bible is sinful, or that the creative artwork takes away from Bible study time.
While each of us is ultimately accountable to God for our own actions, I have spent the last several years interacting with the Bible journaling community. I have been blown away by the depth of faith I have seen among these women. I have been honored and humbled when I've seen how women are pouring over God's word and studying scriptures.
Does the artwork pull people away from studying God's word? Yes, at times. Is it a distraction? Sure. Lots of things are distractions in this world.
But overall I have seen so much more that is a tremendous blessing in this art form and creative expression.
Bible journaling is not sinful.
As far as using the Bible as a medium for artwork, I have never seen anyone who is doing so as a way of detracting from God's word. Bible journaling is done as an act of prayer and worship.
Bible journaling is not disrespectful.
Bible Journaling with Momentum
Momentum is a monthly Bible journaling kit subscription program.
This program is specifically designed for the busy Christian woman who wants to grow in faith yet doesn't have hours to spend searching through Pinterest for ideas and techniques.
With this program, all the work is done for you, so each time you open your Bible everything you need will be right at your fingertips.
Click here to learn all about Momentum and your get FREE 10 day Bible journaling course to get started.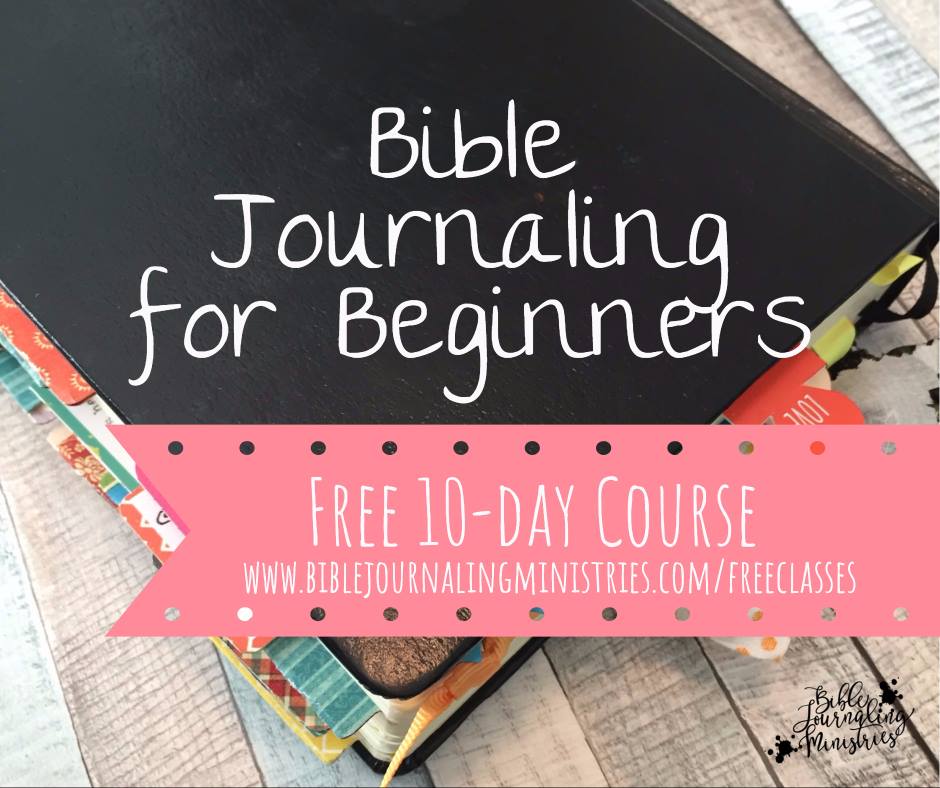 The Best How To Bible Journal For Beginners Resources
If you are looking for even more great Bible journaling ideas, check out this list of some amazing resources from other bloggers. You'll learn and find great tips for how to make this experience uniquely yours.
Websites:
constancedenninger.blogspot.com
unconventionallysf.blogspot.com
Pinterest pages:
Facebook:
The Holy Mess Bible Journaling Facebook Group – click here to join us
Great Lakes Visual Faith Community
Creative Worship Bible Journaling
I'm indebted to my mom, Jeanette Rorabaugh, and Bev Wicher, pastor's wife from the Eastern Lutheran Church Missouri-Synod District for sharing their Bible journaling tools, resources, and wisdom for these posts.
Thank you to Emily Abraham for the photo on the cover.
Do you any questions on how to bible journal? Have you started Bible journaling or do you want to start? What supplies and resources do you use?
More How To Bible Journal Ideas
Bible Journaling in a Faith Planner –Did you know that Bible journaling in a faith planner is a wonderful Bible journaling option?
I am thrilled to announce our newest guest author. Karen Hunter from KarenScraps has been wowing us with her faith planner pages and now she is here to teach us how to make this process our own. If you would like to make prayer journaling a daily habit then a faith planner may be perfect for you. Keep reading to see how Karen uses her planner as a place for prayer, journaling and inspiration.
Bible Journaling: Printables and Traceables –Do you long for quick and easy Bible journaling ideas? Do you sometimes feel you lack the creativity for Bible journaling? Bible Journaling with Printables and Traceables can easily bring your pages to the next level.
Bible Journaling Supplies Worth the Splurge –I love Bible journaling. I love trying new materials and techniques. I hate when I feel like something was a waste of money. You probably hate that too. With literal stores full of art supplies out there, how do we know what works best for Bible journaling? Keep reading for Bible journaling supplies worth the splurge. These are products I have tested and know are worth the money.
Bible Journaling On the Go! –Today was the last day of school. Next year I will have two kids in high school. I can't figure out how they grow up so fast. I was teary-eyed all the way home. I couldn't help but think how desperately I want to steal them away and just slow down the clock. So this year we are doing just that. Road trip here we come! I am so excited about this year's summer adventure, but I also want to bring my Bible journaling with me. If you are traveling this summer and can't bear to leave your Bible art journaling behind, a mini-devo book is just what you need. Keep reading for The Holy Mess Bible journaling on the go ideas.
How To Bible Journal Series
Pin this How To Bible Journal Post for Later
Bible Journaling Supply List
*Receive a free printable Bible Journaling Supply List for Beginners.
*The best products to buy
*Money saving purchases