Are you considering Intermittent Fasting (IF) for weight loss and you are wondering if it's the right decision for you? As someone who has lost over 100 pounds, and has guided hundreds of people on their own weight loss journeys, here are my recommendations.
This article is meant for information purposes only. Discuss your situation with your doctor or health care provider.
What is Intermittent Fasting (IF)?
Fasting is choosing to do without something for a period of time.
Intermittent Fasting is choosing to go without food for a set period of time during each week, such as not eating for a 24 hour period once during a 7 day week, so that you eat for 6 days and fast on the 7th day.
Intermittent Fasting (IF) vs Time Restricted Eating (TRE)
Intermittent Fasting is often confused with Time Restricted Eating or TRE.
Time-restricted eating is eating daily but only during a set window of hours, then fasting during the other hours.
Time Restricted Eating could include schedules like:
A 16:8 eating pattern, which means to fast for 16 hours and eat during an 8 hour eating window of each 24 hour period.
A 12:12 eating pattern, which means fasting for 12 hours and eating during the other 12 hours.
Eating only during daylight hours (when the sun is up).
Not eating after a certain time at night, like not eating after 6:00 PM or not eating after 8:00 PM.
Only eating at set mealtimes and fasting in between (not snacking).
I do not recommend IF for most people, which I explain in further detail below. However, there can be benefits to more moderate methods of TRE because it can create healthy boundaries.
TRE can also make you more mindful of when you are snacking, which has been proven to help with weight loss.
One example is not eating after a certain time of night. Many of us have a pattern of snacking at night to unwind from a busy day, or we eat in the evening for entertainment purposes. Eating popcorn in front of the television is rarely for nutrition. This type of eating can lead to overeating, which often leads to a person becoming overweight.
TRE can help because because when you give yourself boundaries like not eating after dark or not eating after 8:00 PM, you quickly see the ways you are using food for unhealthy reasons.
Should You Use IF for Weight Loss?
Women often ask me, "Do you recommend IF (Intermittent Fasting) for weight loss?"
NO, I do not.
I know fasting has been around for centuries. I know it may have some medical benefits, but most people who ask me about IF are wondering if they can use it to make their weight loss process faster or easier.
In my experience, using fasting to speed up the weight loss process backfires for most people. Read on and I'll explain why this happens, and what to do to lose weight instead.
Fasting as the Latest Fad Diet in 2022
With the rise of the ketogenic diet (which decreases appetite for some people), we have seen an increase in people using IF to lose weight.
This magazine I saw at Walgreens is the perfect example of how IF is being used as the latest fad diet. It's filled with recipes that could be in any magazine. Fasting is NOT eating, so a magazine of recipes really doesn't make sense.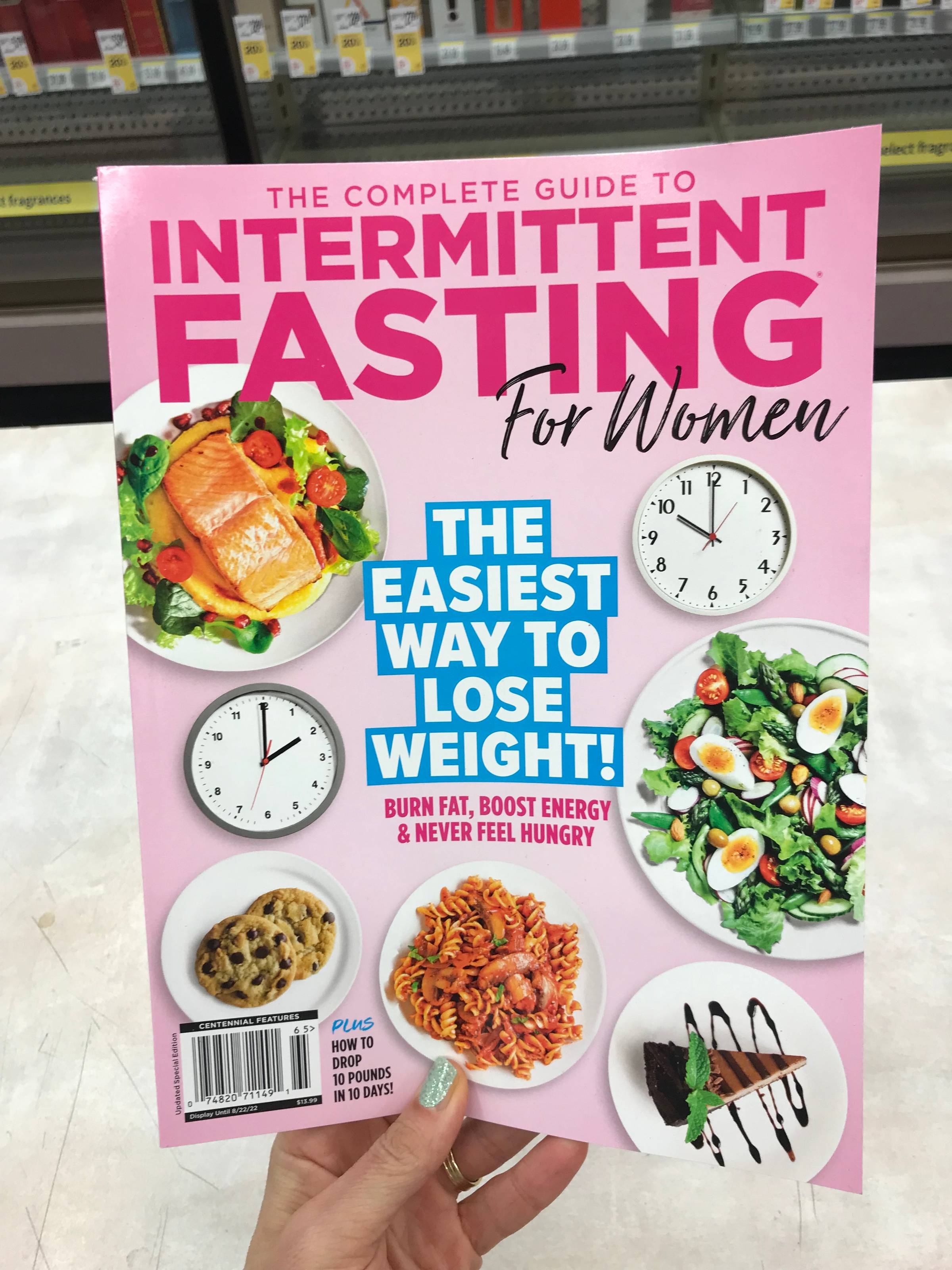 The way that many people use IF, such as fasting for 16 hours and eating in an 8 hour window, involves skipping breakfast, yet research has shown that people who are weight loss success stories are breakfast eaters.
Some dieters take this even further by drinking bullet-proof coffee, which is a high-fat beverage with coconut oil or butter mixed into coffee. This is an extremely bad idea for anyone who is overweight because research shows that we don't register liquid calories in the same way we do calories from food.
Fasting Makes the Restrict-Binge Cycle Worse
For anyone who needs to lose weight, it's critical not to skimp on food during the day.
People who have food issues almost always have a history of over- and under- eating. We go on a diet, cut back our calories too far, then binge or cheat later. We repeat this again and again at night, on the weekends, on vacation, and at holidays.
Intermittent Fasting can make this worse because your body doesn't get the calories it needs during the day and it sets you up to stay stuck in this cycle. I was stuck in that cycle for years. Don't make the same mistakes I did.
Because I have a history of binge eating and compulsive overeating, I do not fast to maintain my weight. Instead, I carefully plan ahead to make sure each day is full of as much quality nutrition (with some treats for enjoyment along the way) as I can give body.
High Quality Nutrition is Critical During Weight Loss
To lose weight, you must reduce your calories in order to be in a calorie deficit. This makes it especially critical that you pay careful attention to nutrition. Every bite counts.
Most Americans are under-nourished and over-fed. We eat far too many calories and no where close to the fiber and nutrients we need.
If you need to lose weight, think about how you can flood your body with nutrition. Eat a good high-quality breakfast, a satisfying, healthy lunch, and a good quality dinner. Eat snacks that are full of nutrition if you need them.
While it's technically true that you can eat the same nutritious food during a shorter eating window, you'll make it more difficult for yourself. Mentally, you might find that your brain is fighting against your weight loss efforts because you are going for long periods without food, in addition to living in a calorie deficit.
My best advice? Give your body what it needs, at regular intervals throughout the day, and stay off the weight loss bandwagons.
Can You Use IF and Weight Watchers Together?
As someone who has used Weight Watchers to lose and maintain over 100 pounds lost, sometimes people ask me if I recommend doing IF and WW together.
How do you do IF and WW together? To use WW and Intermittent Fasting together, eat your allotted daily points (and weekly points, if you choose to use them) during your eating window and fast during the other hours of a 24 hour period.
While this can be done, generally I don't recommend it or see it as necessary. The WW plan works by creating a calorie deficit, making fasting unnecessary.
Does Fasting Boost Metabolism?
There are emerging studies showing that there is a slight benefit to fasting for improving calorie expenditure, digestion, and more. However, study results are mixed.
If there is a benefit to IF, it's similar to the ketogenic diet and the benefits of ketosis. While there might be a slight increase in weight loss or reduction in belly fat, it's so slight that it's barely worth mentioning.
If fasting does work for an individual, it's because they are creating a calorie deficit that leads to weight loss, not because of some magical metabolic benefit that fasting provides.
What about Spiritual Fasting?
Intermittent Fasting is totally different from fasting for spiritual reasons. Fasts are Biblical, but they don't have to involve food if you have a history of abusing it.
Here are helpful resources for Biblical fasting:
Spiritual Fasting for Breakthrough
30 Christian Quotes about Fasting
If you need to lose weight, it's especially important that you guard your heart if you engage in a food fast for spiritual reasons. I can tell you that when I was 100 pounds heavier, I might have said I was fasting (or giving up chocolate or sugar for Lent) to get closer to God, but deep down I really hoped it would lead to weight loss. This isn't the intention of a spiritual fast.
What are your thoughts about fasting? Share on the comments below.