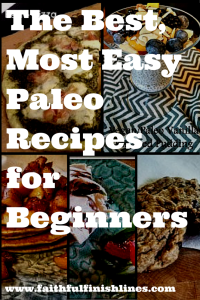 The Best Paleo recipes by Jen Pedri
Starting a Paleo lifestyle can be a bit overwhelming, but we've got you covered. Here are 10 of the Best, Most Easy Paleo Recipes for Beginners. Also check out this extremely helpful post, I Love the Paleo Lifestyle, which explains the day to day lifestyle of living paleo — beauty products, healthy habits, how to switch over the kitchen, and more.
We start our Easy Paleo Recipe Round-Up with a wonderful Pesto Pizza recipe. This is a gluten-free, Paleo recipe that is quite versitle. It could be made into a breakfast pizza or made with typical pizza toppings.
Next is a fun, unique recipe Bacon Apple Kale Pancakes. Yes, really! Also Paleo and gluten-free (although the recipe is for the topping, so could be made with traditional pancakes, too), your family will never know you are sneaking healthy kale into the mix.

When people are switching to a Paleo or gluten-free lifestyle, one of the biggest questions they have is how to eat less bread. What about lunches without sandwiches? This recipe is a classic example of an alternative. Italian Chicken Roll-ups are full of flavor and come together in minutes. I would eat these any day of the week!
This Vegan Paleo Chia Seed Pudding is one of my favorite recipes on the blog. It's a snack or dessert you can feel great about serving your family. Chia seeds are extremely healthy and filling. I have started using them regularly in my smoothies and baked goods, in addition to ground flax
and hemp seeds
.
Finally, the round up wouldn't be complete without my personal dream recipe, Jen's Go-To Almond Butter Chocolate Chip Cookies. With just a few ingredients, these are quick, simple, and so super yummy!

What beginner Paleo recipes do you enjoy?